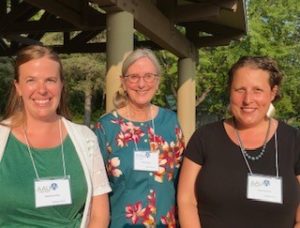 Scholarship checks for $1,500 were presented to
Stephanie Kiero (L) and Sarah Erickson (R) at the 2021 Summer Social
Nationally, AAUW awards millions of dollars in grants and fellowships each year. But locally, the Duluth branch sponsors scholarships and helps to promote state and national grants.
POST-BACCALAUREATE SCHOLARSHIPS
Every year the branch awards competitive scholarships to area women pursuing post-baccalaureate study. The number of grants varies depending on fundraising, but the total amount is split equally among the successful awardees. In 2021, two women received $1, 500 each.
To generate money for these scholarships, AAUW holds a fall fundraiser which usually includes presentations, entertainment, and a silent auction. In 2021, the virtual fundraiser generated over $3, 000. The event has had various forms and titles over the years, but the 2021 virtual fundraiser was called "Leaders Created Here" and showcased two local women leaders who discussed how the branch fellowship each received helped them pursue their professional dreams.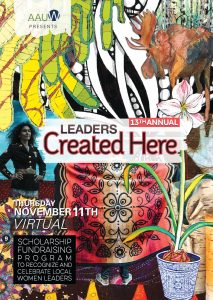 The 2022 scholarship application form is also available.
NATIONAL CONFERENCE FOR COLLEGE WOMEN STUDENT LEADERS (NCCWSL) SCHOLARSHIPS
For several years the branch has sent a college student to participate in AAUW's National Conference for College Women Student Leaders (NCCWSL). NCCWSL brings together hundreds of college women from around the country for three days of leadership training, inspiration, and networking. The diverse backgrounds and ideas at NCCWSL make it a transformative experience. More information is available at https://www.nccwsl.org.
If you're from the Duluth area and are interested in applying and obtaining funding for NCCWSL through the branch, contact President Kate Baldwin at kate.mary.baldwin@gmail.com. She will direct you to the NCCWSL branch liaison.