Focus groups meet monthly at a scheduled time.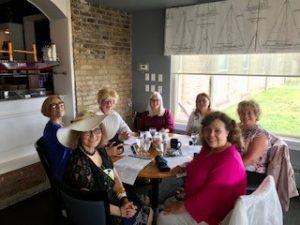 The Lunch Bunch, Summer 2021
The Lunch Bunch
Contact: Bonnie Edwards, bkedwards@gmail.com
1st Tuesday of the month at 1 pm
Members get together at a different restaurant each month for informal conversation.
Roundtable
Contact: Dawn Conlan, conlan518@gmail.com
3rd Tuesday of the month at 5:30 pm
A random topic is chosen for friendly discussion each meeting. Currently meeting in-person and Zooming.
Film Group (Zeitgeist Afternoons)
Contact: Geiger Yount, geigman@aol.com
1st and 3rd Wednesdays of the month at 4 pm
The group is planning to resume in-person viewings at the Zinema.
Book Club
Contact: Angela George, angela8744@msn.com
3rd Monday of the month at 7 pm
One person per meeting leads discussion on the chosen book. Meetings take place in homes (simultaneously Zoomed), on Zoom in January, February, and March, or at other venues.
Sampler
Contact: Lou Anne Siefert, lasiefert@charter.net
This eclectic group will resume meeting in early 2022.