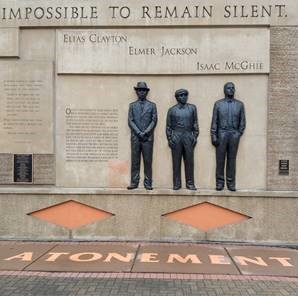 Clayton Jackson McGhie Memorial of 1920 Lynching in Duluth
To situate the branch and tell its story, this entire website alternates iconic images of Duluth with shots of branch members and activities. The iconic pictures on the revolving banner at the upper right of the screen feature the Aerial Lift Bridge, Enger Tower, Glensheen, and the Native Water Protector Mural. Other tabs show the Clayton Jackson McGhie Memorial, the Harbor Lighthouse, and the William A. Irvin.
The Photo Archive for AAUW Duluth includes a representative selection of branch members and activities from 2020 and 2021. The Newsletter Archive attaches issues from 2020, when the newsletter was revived, to the current day.