AAUW Duluth was originally organized in 1894. Following the lead from the national and state arms of AAUW, the Duluth branch fosters equity for all women and girls, lifelong education, and positive social change. Over the years, public policy initiatives have included education, gender discrimination, civil rights, reproductive choice, Title IX, pay equity, and health care reform.
One of our branch members compiled historical highlights of AAUW Duluth from its beginnings to 2001. Click here if you would like to read it.
Most branch members live in the Twin Ports of Duluth, Minnesota, and Superior, Wisconsin, on the shores of Lake Superior. In accordance with our commitment to diversity, we acknowledge that these cities are located on the traditional lands of Indigenous people.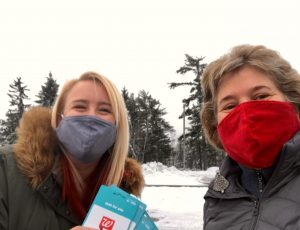 Mel Alvar (L), from Program for Aid to Victims of Sexual Assault, receiving gift cards from Wendy Williamson (R) funded by the branch's Dr. Jane Maddy Memorial Funds during Sex Trafficking Awareness/Prevention month in January 2021.